Our Most
Popular Christmas
Wreaths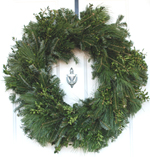 Mixed Greenery
Wreaths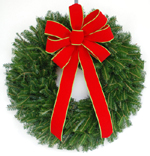 Specialty Bow
Wreaths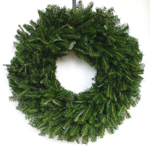 Plain Fraser Fir Wreaths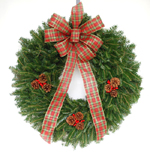 Decorated Wreaths
Our 2018 Wholesale Christmas Tree and Wreaths Price List and Order Form is now available
Choose your wreath
(and add on or ship plain)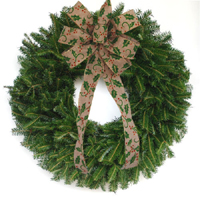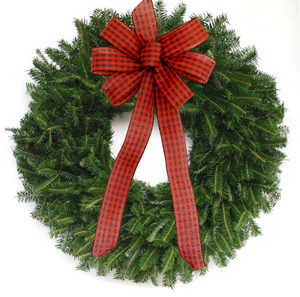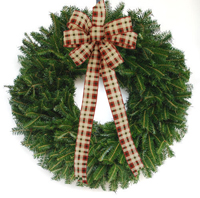 We specialize in real live handmade fraser fir Christmas wreaths and fresh cut wholesale Fraser Fir Christmas Trees. We create your special holiday wreath when you need it shipped so that it will be at it's best and freshest. We use state of the art wreath making equipment to create a fresh live Christmas wreath with plenty of fraser fir boughs that have tight clamps. We top this perfect outdoor Christmas wreath with a handmade Christmas bow. We have a great selection of styles and colors of Christmas bows to choose from as well as various holiday decorations that can be used to create a wonderfully fragrant and attractive fresh Christmas wreath. You can also choose to decorate your own wreath by ordering an undecorated fraser fir wreath. Save your bow and decorations for the next year!

Our fraser fir Christmas trees are grown in the mountains of North Carolina. We take great pride in the quality of our Christmas trees, Christmas wreaths and bows.

You can order our products any time of the year and have them shipped on the date you request. Please be sure you see our Wreath Care section for information on how long your wreath will last. Some items have a space to add your shipping date while with others you can just make a note in the comments section on checkout. Please contact us at sales@christmastreewreaths.com if you need assistance or call us at 866-815-6604.
We also offer wholesale prices on our wreaths and bows for Christmas Tree lots and retail locations. Our wholesale Christmas bows can be purchased by the case.
Fraser fir is widely used as a Christmas tree and in wreaths. Its fragrance, shape, strong limbs, and ability to retain its soft needles for a long time when cut (which do not prick easily when hanging ornaments) make it one of the best trees for this purpose.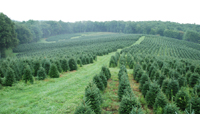 Wholesale Christmas Trees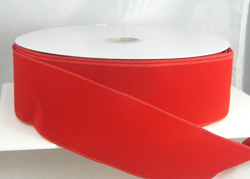 Christmas Ribbon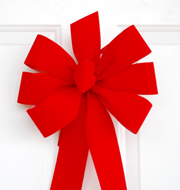 Christmas Bows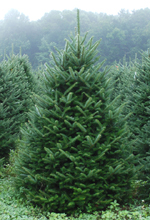 Why use a real tree?